BLOG — custom invitation design
Posted by Jenn Scholes on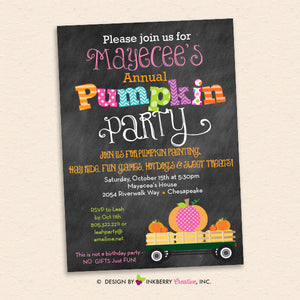 It's officially fall and as we all know, this means tons and tons of PUMPKIN theme everything! This includes party invitations, printable parties, baby showers, Halloween parties and more! I love this time of year because so many of my fall birthday, shower and holiday invitations are some of my favorite invitations I have designed. What I love the most is customizing these designs for customers to fit their own unique party themes, color schemes or events. I thought I would share with you some of my favorite designs for fall parties and some really cute custom orders I've designed...
Posted by Inkberry Cards + Design on
I was so excited to be asked again to design a custom invitation & favor tags for a wonderful customer of mine - this time in a bright and fun pool party theme!...